Aaron Hudson composed and performs in the NWEAMO 2020 piece Too Many Arps
Visuals by Bombasticus.
Aaron Hudson is a San Diego native with over 25 years of experience in the music industry. He obtained his B.A. in Music Composition from San Diego State University in 2017 under the guidance of Joseph Waters and Chris Warren. After graduating from San Diego State University, he relocated to Copenhagen Denmark and received his M.M. in Music Composition from the Royal Danish Academy of Music in 2019 under the guidance of Niels Rosing-Schow and Jeppe Just Christensen. He also spent 20 years as a professional touring musician and recording artist playing with some of the top musicians in the U.S.
Mr. Hudson's compositions focus primarily on acoustic instrumental "classical" music with influences ranging from Bach, Mozart, Bartók, and Schoenberg, to more contemporary artists and composers such as jazz pianist Bill Evans, György Ligeti, and Arvo Pärt. During his time at SDSU, he composed electronic music as well as instrumental music with help from professors Waters and Warren.
More of Aaron's music can be heard on the following platforms:
Youtube: https://www.youtube.com/channel/UCoTLPykejn9x5lJnGQr6WFQ
All inquiries can be directed to: hudsonaa@gmail.com
Bombasticus
Bombasticus AKA John Young or Johnny Why is a life long musician and electronic designer / tinkerer. Visual music comes naturally as he is widely thought to sufferer from Synesthesia. He is responsible for the NWEAMO web site.
The graphics for 2020 were generated partly by Processing, a marvelous way to introduce computer graphics to artists and vice versa. The grids of squares and their precisely random offsets were procedurally generated and manipulated to what to me at least was pleasing.

After rendering dozens of frames in a few minutes, I then selected 30 of my favorites, and animated & tortured them further them in Photoshop.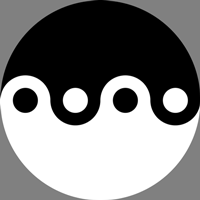 360 frame Animation inspired by the Ying Yang Symbol
All inquiries can be directed at johnnyyoung11011@gmail.com
I support NWEAMO by volunteering to maintain the web site, and can provide you personalized web site hosting and design services at a reasonable cost through Digital Sound and Picture.
I specialize in services for musicians.