This concert will be rescheduled. Please check back for date.
Smith Recital Hall
San Diego State University
5500 Campanile Drive San Diego, CA 92182 Tickets: FREE
Vagabond Dreams: Described as displaying "brilliance of sound, technical mastery, and stunning expressivity" (I Care If You Listen), the violin duo Miolina makes their San Diego debut with a program of new and recent works.
Musicians Mioi Takeda and Lynn Bechtold will perform acoustic and electroacoustic works written for them by Swedish composer Mauro Godoy Villalobos, Norwegian composer Ketil Hvoslef, Serbian composer Milica Paranosic, Finnish composer Tomi Räisänen, and New Yorkers Ms. Bechtold, Sunny Knable, and Mark Zaki.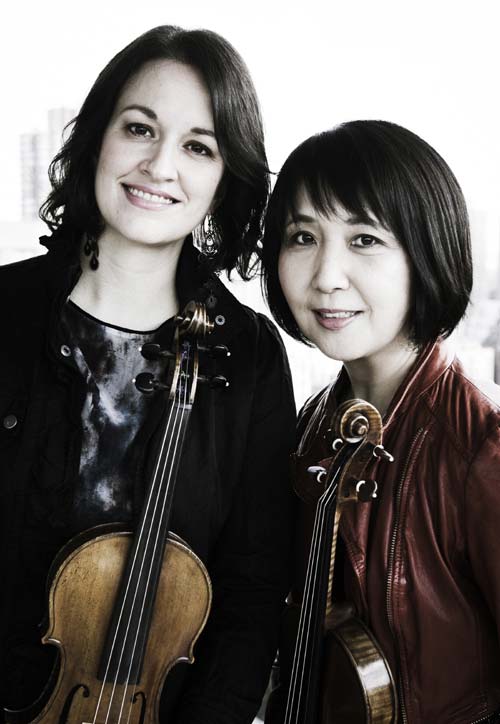 Violin duo Miolina (Mioi Takeda & Lynn Bechtold, violins) has been called "talented and dedicated" by Arts Birmingham, and described as displaying "aggressive and virtuosic prowess" with "brilliance of sound, technical mastery, and stunning expressivity" by I CARE IF YOU LISTEN.
A member of New Music USA's Impact Cohort, Miolina has been attracting audiences since their inception in 2012. Mioi and Lynn are keen on creating and shaping the violin duo repertoire in the 21st century.
To date, Miolina has premiered dozens of violin duos. They have had successful shows in NYC at venues such as the National Opera Center, Tenri Cultural Institute, (le) Poisson Rouge, Spectrum, Rockwood Music Hall, Gallery MC, Parsons School of Design, and The Morbid Anatomy Museum. They've also performed concerts around the U.S. and abroad in Birmingham, Chicago, Copenhagen, Los Angeles, Malmö, Pensacola, Philadelphia, San Francisco, Washington DC, Paris, and Tokyo.
Miolina has participated in festivals/residencies/series including Avaloch Farm, Birmingham New Music Festival, Composers Concordance, C-Y Series, Electronic Music Midwest, Infuse Présente, NWEAMO, North/South Consonance, and Sonic Circuits.
They are recipients of numerous grants including Adami, American-Scandinavian Foundation, Japan Foundation NY, Lower Manhattan Cultural Council, New Music USA, and New York Women Composers.
As part of their outreach and educational programs, Miolina has performed at senior centers and soup kitchens, as well as working with students at The Alabama School for the Blind, The Juilliard School, Queens College, and Rutgers University.
Their debut album was released in 2018 on Composers Concordance Records/Naxos, and they are featured on Jean-Baptiste Favory's work UNISONO V, part of his new album 'Le Passager.'
It was released on French label ACEL in January, 2020. Upcoming spring performances take place in Boston, San Diego, Irvine, and NYC's DiMenna Center .
Info about the composers and performers
Lynn Bechtold: https://www.miolinanyc.com/lynn
Mauro Godoy Villalobos: http://mauroworks.com/
Ketil Hvoslef: https://musicnorway.no/artist/ketil-hvoslef/
Sunny Knable: https://www.sunnyknablecomposer.com/
Milica Paranosic: https://www.milicaparanosic.com/
Tomi Räisänen: https://www.tomiraisanen.com/
Mioi Takeda: https://www.miolinanyc.com/mioi
Mark Zaki: http://markzaki.com
Contact: Lynn Bechtold miolinanyc@gmail.com
Website: http://www.miolinanyc.com
ABOUT NWEAMO
Founded in 1998, NWEAMO is an all-volunteer organization dedicated to the promotion of music that involves the creative use of computers and electronics, and to the development of a diverse community of electro-acoustic composers and performers throughout the world.
We embrace all styles of electronic music as well as performance and hybrid arts. Improvisation and interaction are especially encouraged. With these goals in mind, each year NWEAMO organizes an international festival of electro-acoustic music. This festival seeks to establish and showcase new modes of performance by focusing on works which call for the creative and original use of today's technologies.
The NWEAMO festival has traveled to Portland, San Diego, New York, and Boulder in the U.S., and to Mexico City, Berlin, and Venice. Since its inception the festival has featured an eclectic mix of performances filling concert halls with beats, newly invented instruments, video, dance, and electronic music rooted on seemingly disparate concepts and aesthetics. High and low, street and laboratory – everything converges by design at a NWEAMO event.
Please join in!
Sincerely, NWEAMO RATPD – "Rough And Tumble Play Department"