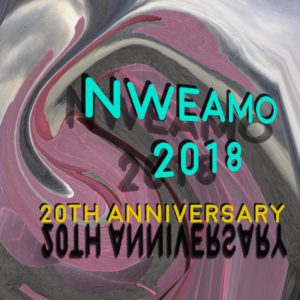 NWEAMO 2018 will be in San Diego on April 26-29

NWEAMO 2018 San Diego Call For Works is closed.
Thank you for all the submissions.
We are reviewing and will let all know as soon as possible.
If your work is accepted, there is no cost for participation. NWEAMO will promote your piece and provide the venue and sound reinforcement, but does not have funding to compensate travel, lodging or performance fees.
Founded in 1998, the mission of NWEAMO is to build connections and dissolve boundaries between communities of composers who work in some way with electronic media and other novel materials, and to broaden the audience for music that ranges from the experimental fringes of pop music to the far shores of modern aesthetic and technical exploration. NWEAMO seeks to present the broadest possible spectrum of different genres and styles with the goal of bridging gaps and building a world-wide community of people who are passionate about the universal language of music. We hope to do our part in building a world without borders – where differences are honored and celebrated.
The festival's home is San Diego, California, but NWEAMO travels widely, and has taken place in New York City, Boulder, Miami, Mexico City, Portland, Tokyo, and Venice, Italy. The 2018 festival will take place in San Diego.
We are calling out to boundary pushing singer-songwriters, DJs, VJs, masters of EDM, creative gamers, and composers working at the experimental fringe of pop electronica as well as contemporary classical music and multimedia art.
NWEAMO 2018 will be presented in San Diego, California, USA – April 26-29, 2018
Composers are strongly encouraged to attend when their piece is presented.
We want to invite artists from around the world who share our mission of world unity through creative expression.
We are looking for artists who would love to present mini sets of 1 to 7 minutes, and who are excited about sharing the stage with as many different genres as possible in a 75 minute concert. The music can be any innovative style, using invented, traditional or electronic instruments. It can involve projected images, choreography, dance, etc…
We want to invite new entries as well as artists from our past American, Asian, and European endeavors to collide and merge with the vast and deep currents of Mexico. We are thrilled at the potential for new cross pollination in our ongoing search for hybrid global art statements. What can be born from the implosion and transfusion of opposite polarities?