El Colibrí Mágico (The Magic Hummingbird) — A California Story
On October 13th, 2019 we presented a performance of a new opera-musical,
"El Colibrí Mágico (The Magic Hummingbird) — A California Story",
a modern day retelling of Saint Francis set on the Tijuana-San Diego border.
It is a collaborative effort with content creators from San Diego & Tijuana, who are also a consortium of LGBTQ and straight folks.
The story addresses all of the above.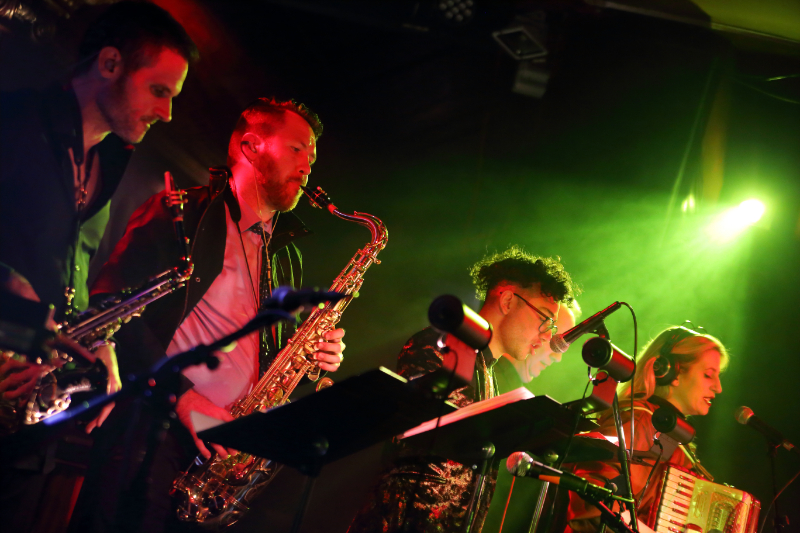 Photo credit required:© 2018 William Chu
It involves a trio of sheltered, upper-middle class So Cal teen rockers headed to TJ to perform at a punk club and to explore TJ nightlife.
Their partying adventure takes a surreal turn when supernatural events hurl them headlong into a community of refugees, who bear ancient secrets.
The weekend jaunt becomes a life changing journey.  The teens are drawn in and find themselves on a vision quest, entangled with the perils of the dispossessed.  In the end they risk their lives to help the stranded cross the border through a magic tunnel, the body of a giant snake placed under the mountains thousands of years ago by the goddess of the moon.  The path is dangerous and the outcome uncertain.
El Colibrí Mágico (The Magic Hummingbird) — A California Story
The idea is to embed real issues in a magical realistic setting that combines the sensibilities of West Side Story and Harry Potter, in order to stimulate a conversation among the demographic that loves Game of Throne sand the Potter works.  I've been working on it for six years and it's by coincidence that the border has been ginned up by a desperate demagogue.  As we are coming to find out, the border issues have been going on for most of the last century.
The cast of over 20 actors, dancers and singers and an orchestra of nine, comprises NYC and San Diego professionals, as well as musical theater and opera students at SDSU.  They have been working long hours for weeks to bring "The Magic Hummingbird" to the public.  This is above and beyond their curriculum.
The director and choreographer is Lauren Haughton, MFA directing student at SDSU.  Lauren started on Broadway in NYC when she was 18, and was in the cast of "Wicked" for many years.  Musical directors are Richard Morrison and Sonya Schumann.
The book is by Gustavo Alcoser, Michael Gillis,
and the music, lyrics and story were composed by Dr. Joseph Waters.
The performance was Sunday, October 13, 2019, in Smith Recital Hall in the music building of San Diego State University.
Though the October 13th presentation was officially a workshop, The Magic Hummingbird was partially staged and choreographed, with live music, lighting and sound design and projected sets. This was the first public showing and through it we hoped to expose the work to folks who can help bring it to a larger audience, and give us feedback on how we can improve it.
Photo credit required:© 2018 William Chu
Photo credit required:© 2018 William Chu
Credits
Music and Lyrics by Joseph Martin Waters
Book by Joseph Martin Waters, Gustavo Alcoser, Michael Gillis
Contributions by Lauren Haughton & Amy Hecht
Director & Choreographer: Lauren Haughton
Co-Music Director & Conductor: Richard Morrison
Co-Music Director and Chorus Maser: Sonya Schumann
Projection Design: Scott Boynton
Lighting Design: Bernardo Cervantes, David Siegel
Sound Design: Maddi Baird
Stage Manager: Jamie Boyd
CAST
Francisco ……………. Rodolfo Giron
Clara …………………… Cat Rojo
Franklin ……………….. Jackson Shaffer
Maria Sabia …………. Karen Garcia
Elias ……………………. Gabriel Igtantoc
Ixazaluoh …………….. Laura Sandoval
Francisco's Mother .. Sarah Hernandez
Apollonia ……………… Sonya Schumann
Chorus …………………. Danan Pacheco, Danielle Bongulto, Francesca Lemus, Hunter Katz, Jackson Wright, Joseph Durant, Lexi Vierra, Maddie Darr, Marissa Rodriguez, Phaul Fishman, Ross Graham,Shelby Wuitschick, Vivia Romero
Orchestra
Percussion: Daniel Pate *, Jeffrey Mossier, Donovan Newkirk
Piano: Geoffrey Burleson *
Alto Saxophone: Todd Rewoldt *
Tenor Saxophone: Ian Buss *
Guitar George Svoboda
Bass: Harley Magsino
Rehearsal Pianist: Leigh Petit, Sonya Schumann
Swarmius Ensemble members*
Musical Numbers
Prologue……. Swarmius and Friends
"Chase The Shadows"….. Francisco
"Fake" ……… Clara, Franklin, Ensemble
"Chase The Shadows Reprise" ………. Francisco
"We" ………. Maria Sabia
"Chase The Shadows Reprise" ……….. Francisco
"Circle of Pain" …. Francisco, Clara, Franklin
"Flower" ………. Elias
Saint Children ………. Apollonia and the Acolytes
"Swim In The Immense" …………. Ensemble
"Who Will Win" ……………. Ensemble
"The Answer" ……………. Elias, Francisco
"El Pajaro Carpintero" ………. Ensemble
"Shouldn't" ……………… Clara
Production Staff
• Photographer: David Maung
• iPhone videographer: Amy Hecht
• Assistant Director: Gabriel Igtanloc
• Assistant Stage Manager: Chase Thompson
• Head of Videography: Tim Powell
• Head of Sound : Joe Kucera
• Lighting Advisor: Stephanie Lasater
• Faculty Lighting Advisor: Anne McMills
• Musical technical Tech Support: Tim Nunnink
• FOH: Garret Eckyl, Chris Bravo, Jesse Tello, Joshua Jackson
• Sound crew: Jake York, Ella Markus