NWEAMO 2020 Concert TWO
---
Welcome to NWEAMO 2020's curated YouTube concerts.
Viewing suggestions: If you scroll down this page you will see a series of thumbnails that we have arranged in an order that we think is an interesting context for these very diverse pieces.

Along with each thumbnail are links to the composers and performers, as were provided to us by the artist themselves.

Please click on the links to find out more about the folks behind each piece.

If you end up out in YouTube land, you may need to use the back arrow on your browser to get back to the NWEAMO main page, or close the tab.
You can play all the performances by clicking
The Concert TWO playlist here
or select individual performances from the YouTube links below.
This will play all the pieces in order with one click.
There will be several different ways to experience this grouping, depending on the device you are using, laptop, smart phone, smart TV etc. If you get stuck, don't hesitate to send me a text and we will try to get it straightened out. You can text me at +1-619-750-7125
Enjoy! Jozefius
Too Many Arps
Composed and performed by Aaron Hudson
for the 2017 electronic music marathon at SDSU
Visuals by Bombasticus
More about Aaron Hudson and Bombasticus

Dash
Jennifer Higdon and The Parhelion Trio
More about Jennifer Higdon andThe Parhelion Trio
Flight
Roger Reynolds

Shouldn't
Composed by Joseph Waters
Performed by Nina Deering & SWARMIUS
More Information about Joseph Waters
More Information about SWARMIUS

Telephon-no. 2B-12, Zaum Box
Christopher Adler and Katelyn King

More Information on Christopher Adler

Sarahal
Composed by Mari Kimura
Performed by Miolina (Lynn Bechtold, Mio Takeda)
More about Mari Kimura
More about Miolina

Orche-mino
Texu Kim
More information about Texu Kim
Excerpt from "Penelope and the Geese"
Milica Paranosic

Prayers Remain Forever
Composed by Martin Bresnick
Performed by TwoSense: Ashley Bathgate cello, Lisa Moore piano

More about Martin Bresnick and Lisa Moore

Chalino
Rodrigo Sigal
More Information on Rodrigo Sigal

Sidewalks
Music & lyrics by Bobby Cronin.
Video produced by ReelArtistry

More about Bobby Cronin
Life Is But A Dream (Or So It Seems)
Jeff Alan Ross
Thank you for participating in NWEAMO 2020's online concerts.
We think you would like the live performances even more.
Please come back next year and see us in person!
ABOUT NWEAMO
Founded in 1998, NWEAMO is an all-volunteer organization dedicated to the promotion of music that involves the creative use of computers and electronics, and to the development of a diverse community of electro-acoustic composers and performers throughout the world.
We embrace all styles of electronic music as well as performance and hybrid arts. Improvisation and interaction are especially encouraged. With these goals in mind, each year NWEAMO organizes an international festival of electro-acoustic music. This festival seeks to establish and showcase new modes of performance by focusing on works which call for the creative and original use of today's technologies.

The NWEAMO festival has traveled to Portland, San Diego, New York, and Boulder in the U.S., and to Mexico City, Berlin, Tokyo and Venice. Since its inception the festival has featured an eclectic mix of performances filling concert halls with beats, newly invented instruments, video, dance, and electronic music rooted on seemingly disparate concepts and aesthetics. High and low, street and laboratory – everything converges by design at a NWEAMO event.
Please join in!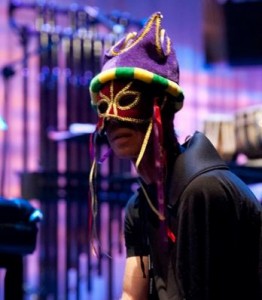 Sincerely, NWEAMO RATPD – "Rough And Tumble Play Department"