NWEAMO 2016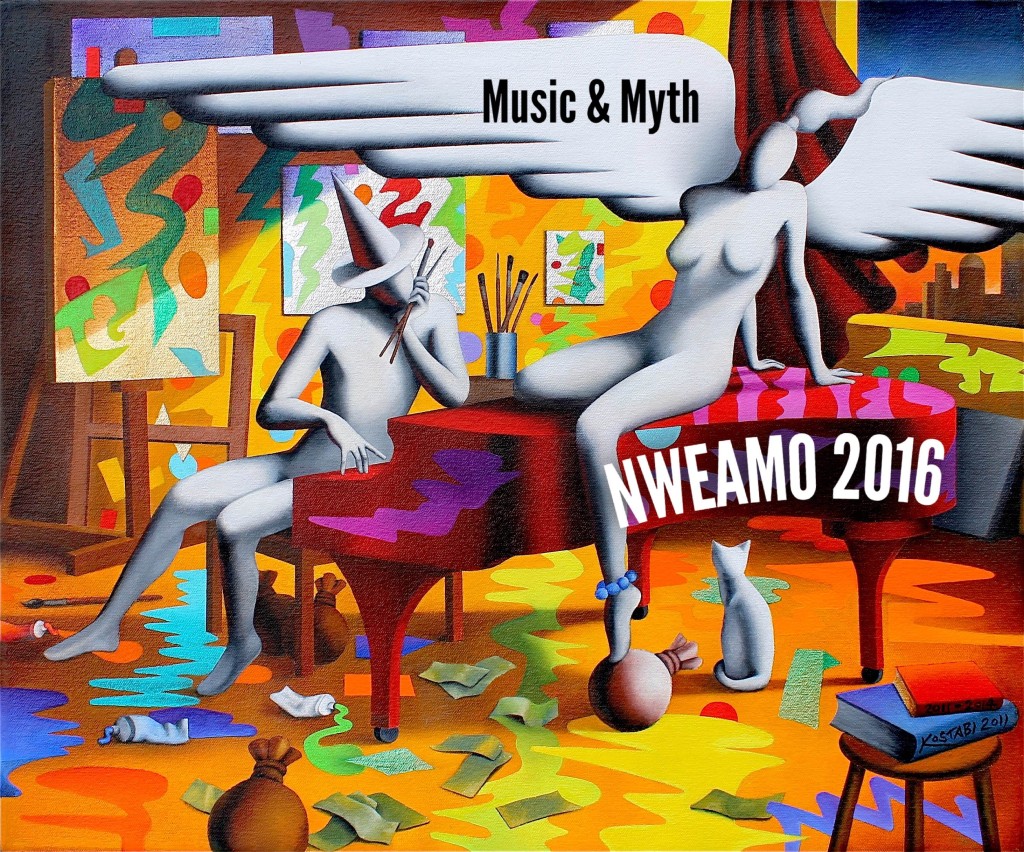 NWEAMO 2016 took place over 3 days. Each event is described in detail below.
DAY ONE: Saturday, April 2, 2016 @ 1111 Prospect Street, La Jolla, California
DAY TWO: Friday, April 8, 2016 8:00 PM San Diego Central Library Auditorium 330 Park Blvd, San Diego, CA 92101
DAY THREE: Saturday, April 9 6:00 PM San Diego Central Library Auditorium 330 Park Blvd, San Diego, CA 92101
---
DAY ONE:
Art show & Reception
Wine and hors d'oeuvres among some of the crowning achievements of modern art and culture.
Trans-classical musical performance by the ingenious and world-renowned ensemble SWARMIUS
Opening Reception
Saturday, April 2, 2016 from 6:00–8:00 pm
RSVP (858) 551-1122
Martin Lawrence Galleries
1111 Prospect Street
La Jolla, California
lajolla@martinlawrence.com
---
DAY TWO:
Friday, April 8, 2016 @ 8:00 PM
San Diego Central Library Auditorium
330 Park Blvd, San Diego, CA 92101
from NYC: CompCord Ensemble
Featuring Mark Kostabi & Lukas Ligeti
'Music & Myth'
with: Lynn Bechtold – violin, Gene Pritsker – guitar, Dan Cooper – bass
Music by: Lynn Bechtold, Dan Cooper, Melissa Grey, Peter Jarvis, Mark Kostabi, Lukas Ligeti, Gene Pritsker.
Comp Cord Ensemble is the resident ensemble of Composers Concordance. The ensemble is a mixed chamber band made up of composers/performers. 
The four core members are: Milica Paranosic - voice and keys, Gene Pritsker - guitar, Dan Cooper - bass, and Peter Jarvis - percussion. 


The group was augmented by other composers and performers for each individual project. 
Acclaimed musicians who have joined the band include:
Robert Dick - flute, David Soldier - violin, 
John Clark - horn, Valerie Coleman - flute, Taka Kigawa - piano, 
Chanda Rule – voice, Franz Hackl - trumpet, 
and Kinan Azmeh - clarinet among others. 
Composers Concordance is a presenting organization for contemporary music
with a 30-year-history of producing concerts in New York City.
It strives to present music in innovative ways, with an emphasis on thematic programming. 






The Comp Cord Ensemble expands on this objective by focusing on the
 composer-as-performer within an ensemble setting. 


Each project asks the selected musicians to contribute 
compositions based on a particular subject or instrumentation, 
with an emphasis on experimentation and creating music 
for the particular members of each program. 

 


In recent years, the ensemble, in its various forms, 
has performed at The American Museum of Natural History, 
Brooklyn Waterfront Artists Coalition, 
 Shapeshifter Lab, and Turtle Bay Music school, among others. 
Since 2010 the ensemble has presented an annual concert at William Paterson University. 
Violinist/composer Lynn Bechtold has appeared in recital throughout the U.S., Canada, France, Holland, and Switzerland. An advocate of new music, she has worked with composers such as Carter Burwell, Gloria Coates, George Crumb, John Harbison, and Morton Subotnick, and has premiered works on the Tribeca New Music Festival and the Princeton Composers' Series. In 2001, she gave the premiere of Violynn, a work for violin and electronics written for her by Alvin Lucier. All About Jazz noted her for her "virtuosity and technical expertise." In addition to Composers Concordance, she performs in groups including Zentripetal, Bleecker StQ, Miolina, the SEM Ensemble, and disco band Escort. Other programs have been with Absolute Ensemble, Catalyst Dance, DJ Spooky, East Village Opera Company, Eternal Tango Orchestra, Glass Farm Ensemble, N/S Consonance, Parsons Dance, Paul Taylor Dance Company, the Vermont Symphony, VisionIntoArt, VOX Opera Readings, and Pablo Ziegler. She has also performed with entertainers such as Boyz II Men, Willie Colon, Sheryl Crow, Dead Can Dance, Darcy James Argue's Secret Society Band, Roberta Flack, Left Banke, Smokey Robinson, J-Pop band SMAP, Donna Summer, and Stevie Wonder. She has performed at diverse venues from Carnegie Hall and Lincoln Center to Joe's Pub and Madison Square Garden. Radio/TV broadcasts include CBC, NHK, WKCR, WNYC, CBS Morning Show, Good Day NY, 30 Rock, and Unbreakable Kimmy Schmidt. She received her Masters Degree from Mannes—The New School for Music, where she was a student of noted violinist Felix Galimir. Prior to that, she received a double-degree in Violin and English from New England Conservatory of Music and Tufts University. When time allows, she likes to compose electroacoustic works and to write articles about food/music/life. Her compositions have been performed on various series, including Circuit Bridges, Composers Concordance, Composers Voice, and Music With a View, and at venues such as the Austrian Cultural Forum NYC and the Bohemian National Hall. She is the recipient of grants from the Lower Manhattan Cultural Council, New York Women Composers, and the Leopold Schepp Foundation, and is on the faculties of many NYC schools.
DAN COOPER ("especially fascinating" -American Record Guide) was born and raised in Manhattan, and educated at Columbia, NEC, and Princeton. The recipient of an Aaron Copland fellowship to Tanglewood, he has received awards, commissions, residencies, and premieres from Absolute Ensemble, Albany Symphony, ASCAP, Cary Trust, Engine 27, ESYO, Fontainebleau, Imani Winds, NARAS, NEA, North River Music, NYYS, Shakespeare & Company, ACO / Sonic Festival, Vox Novus, Walter W. Naumburg Fund, and Zentripetal Duo, among others. As a multi-instrumentalist, he has performed at venues including Berlin Philharmonic Hall, Bunkamura Orchard Hall, CBGB, Chicago Theater, Davies Hall, Hong Kong City Hall, Irving Plaza, Joe's Pub, LPR, Massey Hall, Rockefeller Center, Royal Albert Hall, Royce Hall, Sydney Opera House, The American Airlines (Selwyn) Theatre, The American Museum of Natural History, The Blue Note, and Town Hall. Cooper is a music professor at SUNY-FIT, and a co-director of Composers Concordance.
http://www.dan-cooper.com
Peter Jarvis is a percussionist, drummer, conductor, composer, music copyist, print music editor, and college professor. He teaches music at Connecticut College and William Paterson University. He is an associate director of Composers Concordance and serves as Chairman of the Board of Directors.
Over the years Jarvis has performed, as conductor/percussionist, with several prominent music groups in New York and throughout the USA. He is director of the internationally acclaimed New Jersey Percussion Ensemble. His compositions are widely performed and recorded.
Artist and Composer Mark Kostabi was born in Los Angeles in 1960 to Estonian immigrants. Raised in Whittier, California, he studied drawing, painting and music at California State University, Fullerton. Kostabi moved to New York in 1982, and by 1984, emerged as a leading figure in the East Village art scene where he cultivated a provocative media persona by publishing self-interviews reflecting on the commodification of contemporary art. By 1987, his work was widely exhibited in New York galleries as well as prominently throughout the United States, Japan, Germany and Australia. He inspired extensive international press coverage in 1988 when he founded Kostabi World, his Manhattan art studio, which employs numerous painting assistants and idea people. Beginning in the early 1990s Kostabi's work has been widely exhibited throughout Italy. Kostabi established a second home in Rome in 1996. Dividing his time between Rome and New York enabled him to dramatically enhance his presence in the Italian art scene.
Kostabi produces a weekly cable TV show, The Kostabi Show, where noted art critics and celebrities compete to title his paintings for cash awards.
From 2000 to 2010 he wrote an advice column for artists, Ask Mark Kostabi, for Artnet.com.
Kostabi has designed album covers for Guns 'N' Roses (Use Your Illusion) and The Ramones (Adios Amigos), Jimmy Scott (Holding Back The Years), Seether (Holding Onto strings Better Left to Fray) and numerous products including a Swatch watch, a Bloomingdales bag, Alessi vases, Rosenthal espresso cups, and a Giro d'Italia pink jersey.
Kostabi is also known for his many collaborations with other artists including Enzo Cucchi, Arman, Howard Finster, Tadanori Yokoo, Enrico Baj and Paul Kostabi.
Kostabi performs concerts internationally both as a soloist and with other musicians including Ornette Coleman, Jerry Marotta, Tony Levin, Tony Esposito, Greesi Desiree Langovits and Paul Kostabi. His compostions have also been performed independently by Rein Rannap, Kristjan Jarvi, Absolute Ensemble, Maano Manni, Delilah Gutman and the Estonian National Symphony Orchestra. His CDs include I Did It Steinway, Songs For Sumera, New Alliance, Kostabeat and Grace Notes.
Kostabi is the subject of numerous documentary films, most notably Bottom Line: The Kostabi Phenomenon directed by Peter Bach, Con Artist directed by Michael Sladek, and Jedermann directed by Paul Tschinkel. Kostabi has a prominent role in the Emmy award winning documentary The Art of Failure: Chuck Connelly Not for Sale directed by Jeff Stimmel. "Full Circle: The Kostabi Story", directed by Sabrina Digregorio for Atena Films, has premiered at Anthology Films Archives in New York and and at Domus Talenti in Rome. "My Italy" directed by Bruno Colella, currently in production in Italy, is a docu-comedy starring Kostabi, H.H. Lim, Krzysztof Bednarski and Thorsten Kirchhoff: 4 non-Italian artists who chose to live in Italy. The famous art critic Achille Bonito Oliva has a prominent role as narrator/commentator in the film.
Retrospective exhibitions of Kostabi's paintings have been held at the Mitsukoshi Museum in Tokyo (1992) and the Art Museum of Estonia in Tallinn (1998). The famous Italian art historian and curator, Vittorio Sgarbi, curated a vast exhibition of 150 Kostabi paintings at the Chiostro del Bramante in Rome in 2006. Kostabi's work is in over 50 permanent museum collections, including the Museum of Modern Art, the Metropolitan Museum of Art, the Guggenheim Museum, the Brooklyn Museum, the National Gallery in Washington D.C., the Corcoran Gallery of Art, the Museum of Contemporary Art, Los Angeles, the National Gallery of Modern Art in Rome and the Groninger Museum in Holland.
His permanent public works include a mural in Palazzo dei Priori in Arezzo, Italy, a large bronze sculpture in the central square of San Benedetto del Tronto, Italy, and a bronze portrait of Pope John Paul II in Velletri, Italy.
Kostabi has been profiled on 60 Minutes, Eye to Eye with Connie Chung, A Current Affair, Nightwatch (with Charlie Rose), The Oprah Winfrey Show, Lifestyles of the Rich and Famous, Nonsolomoda, West 57th, CNN, MTV and numerous television programs throughout Europe and Japan. In print he has been featured in The New York Times, People, Vogue, Architectural Digest, The Face, Playboy, Forbes, New York Magazine, The Sunday Telegraph, Domus, Corriera Della Sera, Panorama, Artforum, Art in America, ARTnews, Flash Art, Arte, Arte In and Tema Celeste. The many books published about Kostabi include Sadness Because the Video Rental Store Was Closed, Kostabi: The Early Years, Conversations with Kostabi, The Rhythm of Inspiration, Mark Kostabi and the East Village Scene 1983-1987 and Mark Kostabi in the 21st Century.
Lukas Ligeti
The music of Austrian-American composer and drummer/improvisor Lukas Ligeti draws upon Downtown New York experimentalism, contemporary classical music, jazz, and traditions from around the world.
His compositions have been commissioned by Bang on a Can, Kronos Quartet, Ensemble Modern, the American Composers Orchestra, and others. He has performed with John Zorn, Gary Lucas, Marilyn Crispell, etc. He has given solo electronics performances on 4 continents and has been active in experimental intercultural collaboration across Africa since 1994. In 2010, he received the CalArts Alpert Award in Music.
Ligeti is Assistant Professor of Integrated Composition, Improvisation and Technology at UC Irvine.
Composer/guitarist/rapper/Di.J. Gene Pritsker has written over five hundred fifty compositions, including chamber operas, orchestral and chamber works, electro-acoustic music and songs for hip-hop and rock ensembles. All of his compositions employ an eclectic spectrum of styles and are influenced by his studies of various musical cultures.
He is the founder and leader of Sound Liberation; an eclectic hip hop-chamber-jazz-rock-etc. ensemble who have released cd's on Col-legno, Composers Concordance and Innova Records. He is also the co-director of Composers' Concordance, a new music presenting organization with a 30 year history of producing concert in NYC. Other organization he is associate with include the Grammy nominated Absolute Ensemble, which he co founded in 1993 with Kristjan Jarvi and has been a composer in residence and guitarist with ever since. Gene's music has been performed all over the world at various festivals and by many ensembles and performers, including the The Adelaide Symphony, MDR Symphony, The Athens Camerata, China Philharmonic Orchestra, Brooklyn, Shanghai and Berlin Philharmonics, Orchestre de la Suisse Romande, St. Lukes Chamber Orchestra, Sinfonietta Riga, Orchester des Pfalztheaters, Yomiuri Nippon Symphony Orchestra, Anhaltische Philharmonie as well as such soloists as Anne Akiko Meyers, Lara St. John, Sarah Chang, Kathleen Supové, Martin Kuuskmann and Simone Dinnerstein. He worked closely with jazz fusion legend Joe Zawinul and has orchestrated major Hollywood movies, including 'Cloud Atlas', for which he wrote additional music and composed his "Cloud Atlas Symphony'.
The New York Times described him as "…audacious…multitalented." Joseph Pehrson, writing in The Music Connoisseur, described Pritsker as "dissolving the artificial boundaries between high brow, low brow, classical, popular musics and elevates the idea that if it's done well it is great music, regardless of the style or genre". Raul d'Gama Rose writes in All About Jazz: "Barring the obvious exceptions, much of 21st century composition appears to be thinning in significance, but this might be about to change. Gene Pritsker is one of a very spare handful of composers effecting this change." Evan Burke writes in ICareIf YouListen: "Pritsker seems to look at all music as one genre, in which all other possible styles, sounds and traditions are meant to be used as building blocks and palette colors, combined in various configurations to create a boundless whole. This result is almost always more interesting, and representative of how most new music will be born in the 21st century, as genres and barriers begin to vanish, and as styles begin cross-fertilizing in previously unimagined ways." Classical Music Sentinel writes: "His expressive reach is so wide as to encompass everything from ethno/techno, rock/jazz fusion, classical opera and more, and it all seems to be effortlessly integrated within his anima and comes out through different facets of his persona. You could almost see him as a modern day renaissance man. "
Organizations he is associated with include: Co-director of Composers Concordance & Composers Concordance Records, co-founder/guitarist of Absolute Ensemble and artist-in residence at the Austrian Outreach Festival. Gene Pritsker's music is published by: Falls House Press, Gold Branch Music, Periferia Sheet Music & Calabrese Brothers music. Recorded on: Col Legno, Enja, Eutrepe, Wergo, Innova , Composers' Concordance Records, SONY Classical, and Capstone record labels.
Nicole Antebi works in non-fiction animation, motion graphics, installation while simultaneously connecting and creating opportunities for other artists through larger curatorial and editorial projects such as Water, CA and Winter Shack. Her work has been shown in many unusual places including Hive House Los Angeles, High Desert Test Sites, The Manhattan Bridge Anchorage, Teeny Cine's converted trailer, Portable Forest, a Texas Grain Silo and in the cabin of a capsized ship at Machine Project in Los Angeles. She was the 2015 animator-in-residence at Circuit Bridges, New York and was recently awarded a Jerome Foundation Grant in Film/Video for a forthcoming animated film about El Paso and Ciudad Juàrez set in the early 90's. She teaches part time at CUNY Staten Island and Parsons The New School for Design.
Composer Melissa Grey's projects include concert works, electroacoustic performances, installations, food and sound events, and collaborations with artists, architectural designers, and musicians. Upcoming projects include Photon Ecstasy, a collaborative concert-length spatial performance with composer David Morneau to premiere at the University of Pennsylvania Special Collections Library and held in conjunction with the exhibition of artist Dan Rose's DNA-Photon Project. With frequent collaborator artist and animator Nicole Antebi, Grey has ongoing projects that include a wide range of shared interests, including honeybees and an ancient magic square. Recent works have been published by The MIT Press and featured at Spectrum NYC, National Gallery of Canada, Whitney Museum of American Art (with Antenna International), Electronic Music Midwest, Goethe-Institut Montréal, The Stone, Corridor at BolteLang, Dorsky Gallery, Alphabet City Festivals 2010 AIR and 2009 WATER, Cinesonika: First International Film and Video Festival of Sound Design, Parsons The New School for Design, Chicago's Experimental Sound Studio, and others. Grey is an Associate Director of Composers Concordance. She teaches Sound Studies at the School of Media Studies at The New School in New York City.

---
DAY THREE:
Saturday, April 9 @ 6:00 PM
San Diego Central Library Auditorium
330 Park Blvd, San Diego, CA 92101
Featuring:
* Gregory Walker
* Jeff Ross
* SWARMIUS
Tribal Baroque: The Dynamic Duo
Thoth, countertenor and violin; Lila'Angelique, soprano and violin.
Using countertenor and soprano vocals, Tribal Baroque performs original fantasy operas accompanied by foot-percussion,
dance, theater and violins.
They will be sharing excerpts of their opera "Esh and Ee-ay".
* Joel & Bonnie Bluestone also performed majestically.