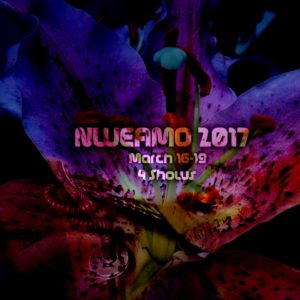 Night Two of NWEAMO 2017
Friday, March 17, 7 PM
SWARMIUS Ensemble & Friends World premieres of works from Jozefius' in-progress opera
"Saint Francis De Los Barrios"

• "Cornelia Street"
• "Things"
          Featuring Rudy Alexander Giron, Countertenor
• "Powerhouse Passacalgia" (Peripateticus Geoffrey Burleson)
• "Cherry Blossoms"
• "Street Sex" (from St. Francis De Los Barrios)
Jozefius Joseph Martin Waters, music & Allan Havis, lyrics
Featuring Rudy Alexander Giron, Countertenor,
Sara Perez, contralto, Jack French, baritione
• "Help You To Live" (from St. Francis De Los Barrios)
Jozefius Joseph Martin Waters, music & Allan Havis, lyrics
Featuring Rudy Alexander Giron – Countertenor, Antarcticus
Sean Bassett – electric & classical guitars, Ionosphere Ian Bassett – electric bass
• "Corner Room In Hell" (from St. Francis De Los Barrios)
Jozefius Joseph Martin Waters, music & Allan Havis, lyric
Featuring Rudy Alexander Giron – Countertenor, Antarcticus Sean Bassett – electric & classical guitars, Ionosphere Ian Bassett – electric bass
• "You Said Once You Loved Me" (from St. Francis De Los Barrios)
Jozefius Joseph Martin Waters, music & Allan Havis, lyrics
Featuring Rudy Alexander Giron – Countertenor & Sara Perez – contralto, Antarcticus
Sean Bassett – electric & classical guitars, Ionosphere Ian Bassett – electric bass
• "Resist"
Featuring Ian Buss – tenor sax, Bradley Nash – baritone sax, Skyler Digby MacKinnon – trombone
All works composed by Joseph Martin Waters except where noted.

Musicians:
SWARMIUS Ensemble:
SAXIMUS (Todd Rewoldt – saxophones)
Peripateticus (Geoffrey Burleson – piano)
Tempus Rhythmicus (Daniel Pate – percussion)
Jozefius Rattus (Joseph Martin Waters – electronics)

Guest artists (more to be announced)

Rudy Alexander Giron – countertenor voice
Kiana Bell – mezzo soprano voice
Sara Perez – alto voice
Jacob Fletcher – tenor voice
Derek Legg – tenor voice
Jack French – baritone voice
Ian Buss – tenor sax
Bradley Nash – baritone sax
Skyler Digby MacKinnon – trombone
Antarcticus Sean Bassett – electric & classical guitars
Ionosphere Ian Bassett – electric bass
Founded in 2008, SWARMIUS  is a contemporary  virtuoso chamber ensemble incorporating acoustic instruments with electronics.
The music is written exclusively by Jozefius (Joseph Martin Waters) who also performs live electronics.
The other members of the Ensemble are SAXIMUS (Todd Rewoldt,  saxophones); Schödingers Sax (Michael Couper,  saxophones );
Peripateticus ( Geoffrey Burleson, piano, melodica, panpipes);
Tempus Rhythmicus (  Daniel Pate, percussion). SWARMIUS  is renowned for  it's exquisite performances of Jozefius'  demanding, virtuosic works. 
Half  the ensemble lives in Southern California, the other half lives in New York City. SWARMIUS performs often in both places, and in between, throughout the world.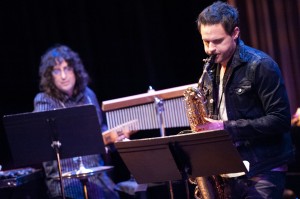 ---
Venue: all concerts took place in Smith Recital Hall School of Music & Dance San Diego State University