Mari Kimura is the composer of the NWEAMO 2020 piece Sarahal performed by Performed by Miolina (Lynn Bechtold, Mio Takeda).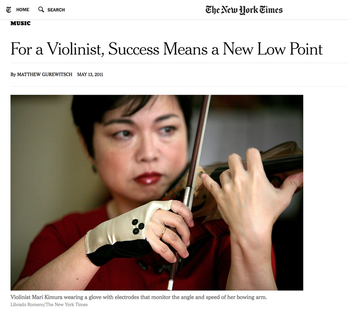 .
Mari Kimura is a violinist/composer and a leading figure in the field of interactive computer music. As a violinist, Mari is renowned for her mastery of subharmonics—the production of pitches that sound up to an octave below the violin's lowest string—as well as for her dynamic performances as an improviser. As an interpreter, she is well known for giving premieres of many notable compositions by today's composers, including Luciano Berio and Salvadore Sciarrino (USA premieres), John Adams and Mario Davidovksy (Japanese premieres) and performing as a soloist with such major orchestras including the Tokyo Symphony and the Hamburg Symphony. As a composer, she has received numerous awards and grants including Guggenheim Fellowship, Fromm Commission Award, a residency award at IRCAM, and the Rockefeller Brothers Fund. Kimura is also a developer of a motion sensor MUGIC™ for interactive performance, and she is the founding chair of Future Music Lab at the Atlantic Music Festival. Her 2017 solo album "Voyage Apollonian" (Innova Recordings) includes her recent works for violin and motion sensor MUGIC™. A graduate faculty at The Juilliard School since 1998, In 2017, Mari was appointed as Full Professor of Music at the "Integrated Composition, Improvisation, and Technology" program (ICIT) at the University of California, Irvine.
www.marikimura.com
Mari Kimura videos:http://www.marikimura.com/videos.html
Mari Kimura Photos:http://www.marikimura.com/photos.html
About Sarahal
Mari Kimura is at the forefront of violinists who are extending the technical and expressive capabilities of the instrument. As a performer, composer, and researcher, she has opened up new sonic worlds for the violin. Notably, she has mastered the production of pitches that sound up to an octave below the violin's lowest string without retuning. This technique, which she calls Subharmonics, has earned Mari considerable renown in the concert music world and beyond. She is also a pioneer in the field of interactive computer music. At the same time, she has earned international acclaim as a soloist and recitalist in both standard and contemporary repertoire.

As a composer, Mari's commissions include the International Computer Music Association, Harvestworks, Music from Japan and others, supported by grants including New York Foundation for the Arts, Arts International, New Music USA/Meet The Composer, Japan Foundation, Argosy Foundation, and New York State Council on the Arts. In 2010, Mari won the Guggenheim Fellowship in Composition, and invited as Composer-in-Residence at IRCAM in Paris. In May 2011, Mari was presented in a solo recital at the Bohemian National Hall in NYC by the Vilcek Foundation, in recognition of her groundbreaking work as a foreign-born artist; subsequently she was named one of 45 "Great Immigrants" by the Carnegie Corporation. Mari's 2010 CD, The World Below G and Beyond, is devoted entirely to her own compositions and focuses on works using Subharmonics and interactive computer music. In 2011, Mari presented her "I-Quadrifoglo", her first string quartet with interactive computer at New York's Symphony Space, commissioned by the Cassatt String Quartet through 2010 Fromm Foundation Commission Award from Harvard. In 2016, she released a solo CD Harmonic Constellations (New World Records) featuring works for violin and electronics by American composers. Mari's latest CD (2017), Voyage Apollonian (Innova Records) features her works for Subharmonics and interactive compositions using a motion sensor. Mari's work has been featured in major publications including the New York Times written by Matthew Gurewitsch, and in Scientific American written by Larry Greenemeier. In October 2014, Mari received the Inaugural Award Of Composers Now Creative Residencies at The Pocantico Center of The Rockefeller Brothers Fund.