Texu Kim
Texu Kim performs in the NWEAMO 2020 piece
Orche-mino
composed by Texu Kim
and performed by Ensemble 212.

Texu Kim writes music inspired by everyday experiences; music about modern (South) Korea, reflecting its multicultural nature; and music that is humorous yet sophisticated.
His music has been performed by New York Philharmonic, San Diego Symphony, Oregon Symphony, Minnesota Orchestra, New World Symphony, National Orchestra of Korea, Seoul Philharmonic, Ensemble Intercontemporain, Ensemble Modern, Alarm Will Sound,
among others. His arrangements have also featured on numerous albums, with labels including DECCA and DG.
An incoming assistant professor of music composition/theory at San Diego State University, Texu taught at Syracuse University 2018-20 and served as the Composer-in-Residence of the Korean Symphony Orchestra in 2014-18.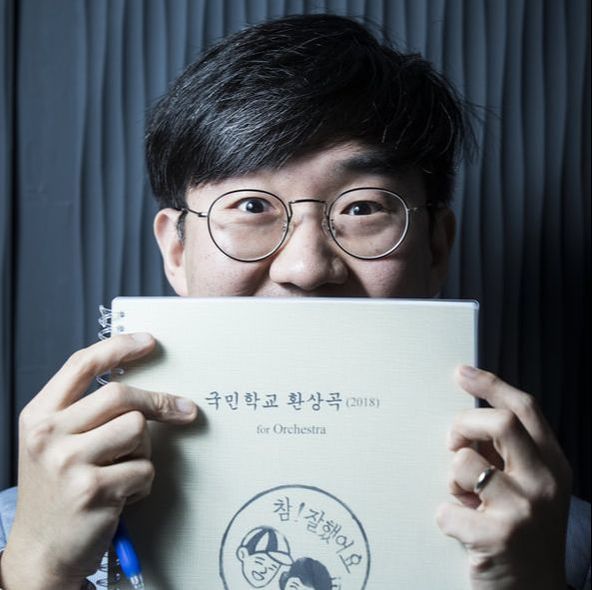 Orche-mino Program Note
Orche-mino (contraction of Orchestra and Domino) is inspired by a YouTube clip titled "INSANE Domino Tricks" by hevesh5. (https://www.youtube.com/watch?v=ARM42-eorzE) I tried to capture the dazzling and playful nature of the video. This piece is not only inspired by the video but also supposed to be performed on and off with it. (The operation of the video could be easily done by pressing space bar on the cues given in the score.) As an additional musical pun, the notes C4 (Do) and E4 (Mi) are emphasized throughout the piece.
Written for Ensemble 212, this piece was premiered by the same group on 20 May 2015 at Good Shepherd-Faith Presbyterian Church in New York City.
Zezhu Program Note
Water or the waterside consistently evokes a variety of feelings and emotions to me – no matter what they may be at the moment. In addition, whenever I am near water, a melody I wrote in January 2002 frequently recurs to me. At that time, I was on a journey to the glacier near Punta Arenas, a city in southern Chile, when "the music arrived in search of me." Since it was before I began to study composition formally, the melody and its chord progression are in a rather "pop music" style (in the manner of Kenny G – but I mean no offense: I embrace his music.). In the ten years since, during which time I began my formal studies in composition, I have been afraid to develop the melody further. I did not know how to fit this material into the serious academic style in which I expect my original works (as opposed to arrangements or collaborations) to be written. Last summer, on Herrington Lake near Lexington, KY, the melody returned, revealing its essence and finally allowing me to modify/modernize it: by following the "water" or "natural flow" as described in Taoism. Interpreting "natural flow" as "stream of consciousness," I decided to approach this piece as a written improvisation.
I titled this piece 澤洙, which is my name in Chinese characters, to show this is a spontaneous melody from within. Like many other names, its exact meaning is not very clear, but the leftmost part in both characters, 氵, signifies water.