Nick Bonaccio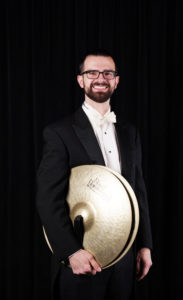 Nick Bonaccio composed the NWEAMO 2020 piece
Variations on a Balkan Rhythm performed by Peter Ferry.
Infatuated with all things ringing, Nick Bonaccio is a percussionist and handbell director based in Madison, WI. He joined the Madison Symphony Orchestra at age 23 while pursuing a masters degree at DePaul University, and has also performed with the Milwaukee Symphony, Hawaii Symphony, Rockford Symphony, Quad City Symphony, Dubuque Symphony, Civic Orchestra of Chicago, Broadway Across America, and the Clocks in Motion percussion quartet, sharing the stage with soloists from Itzhak Perlman, Olga Kern, and Sharon Isbin; to Kristen Chenoweth, The Voice's Patrick Thomas, and the rock band Evanescence.
In January of 2017, Nick was appointed Music Director of the Madison Area Concert Handbells, Madison's premier auditioned handbell ensemble, just in time to celebrate its 20th Anniversary season. MACH's Spring 2017 concerts, entitled "Our Favorite Things," featured fourteen favorite pieces from the past 20 years, culminating with the world premiere of a new commissioned work by composer Jason W. Krug written to celebrate MACH's platinum anniversary. Nick is also the Director of Handbell Ensembles at Bethany United Methodist Church in Madison, where he directs the talented ringers of the Bethany Carillons and Bethany Children's Bells, and spearheaded an initiative to fully refurbish the church's aging five-octave set of Schulmerich handbells.
Passionate about vintage percussion instrument restoration, Nick has apprenticed at two of the most well-known names in the industry, Fall Creek Marimbas and Century Mallet Instrument Service, where he helped bring antique mallet instruments from a state of disrepair to concert-hall quality for clients worldwide. With the skills he gained, Nick completely restored his personal 1920's Deagan 870 xylophone from the golden age of vaudeville novelty music.
As an instrument builder, Nick's graduated set of bronze triangles featured in Drew Worden's triangle sextet "Escape" has been used in performances at the Eastman School of Music, DePaul University, and on the stage of Symphony Hall in Chicago. As a composer, his piece Variations on a Balkan Rhythm has sold copies throughout the United States and Europe, and has been recorded by Chicago percussion soloist Peter Ferry.
When he isn't onstage at Madison's Overture Hall performing in the percussion section of the MSO, conducting a handbell choir, or restoring an antique xylophone, you can find Nick practicing or teaching private lessons in his percussion studio on Park Street, or riding his Fuji Absolute 1.9 around town in search of Madison's tastiest cup of coffee.
A Vermont native, Nick is an alumnus of the Eastman School of Music in Rochester, NY. His principal teachers have included Marc Damoulakis, Eric Millstein, David Herbert, Michael Burritt, Charles Ross, and Jeremy Levine.