Miolina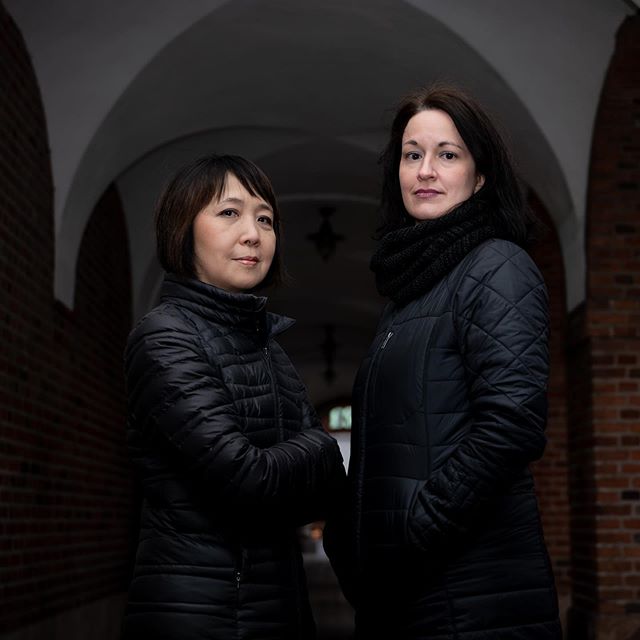 Violin Duo Miolina: Mioi Takeda & Lynn Bechtold, violins
Miolina performs the NWEAMO 2020 piece Sarahel, composed by Mari Kimura.
Called "talented and dedicated" by Arts Birmingham, and described as displaying "aggressive and virtuosic prowess" with "brilliance of sound, technical mastery, and stunning expressivity" by I CARE IF YOU LISTEN, violin duo Miolina has been attracting audiences since their inception in 2012. Mioi and Lynn are keen on creating and shaping the violin duo repertoire in the 21st century. To date, the duo has had successful performances in NYC at Brooklyn College, The Church of the Transfiguration, City Lore, Gallery MC, Goddard-Riverside, Greenwich House Music School, KGB Espionage Museum, LeFrak Hall at Queens College, Lenox Hill Neighborhood House, (le) Poisson Rouge, The Morbid Anatomy Museum, National Opera Center, NoMad Loft, Parsons School of Design, Queens Library, Rockwood Music Hall, Spectrum, St. Mark's Church, Tenri Cultural Institute, Turtle Bay Music School, and The Whitney Museum. Outside of NYC, they've performed at the Howland Cultural Center in Beacon, NY; University of Alabama and St. Paul United Methodist Church in Birmingham, AL; Rutgers University in Camden, NJ; Experimental Sound Studio in Chicago, IL; Monk Space in Los Angeles, CA; Pensacola State College in FL; Center for New Music in San Francisco, CA; Corner Store Arts and Rhizome in Washington, DC; Koncertkirken in Copenhagen, Denmark; Cité Internationale des Arts, La Fine Gueule, and l'Institut Finlandais in Paris, France; Koendori Classics and Monten Hall in Tokyo, Japan; and Galleri Sagoy in Malmö, Sweden. In 2017, they premiered Victor Kioulaphides' double concerto with the North/South Consonance Chamber Orchestra in NYC. In addition, they have performed on series and festivals such as BAMA, Circuit Bridges, Composers Concordance, COMPOSERFest, C-Y Series, Electronic Music Midwest, Infuse Présente, JUMP, NWEAMO, and Sonic Circuits, and have presented masterclasses and worked with composition students at CUNY Queens College, and The Juilliard School. They have also done outreach concerts at The Alabama School for the Deaf and Blind, the Friendly Kitchen in Concord, NH, and at Greenwich House Senior Center and Southbridge Senior Center, both in Manhattan.
Miolina's future productions include performances of the whole cycle of 34 violin duets by Luciano Berio; a new double concerto by composer Takuma Itoh; a program of works by all-Scandinavian composers, featuring premieres by composers Ann Rosén and Tomi Räisänen; an upcoming recording of UNISONO V, by composer Jean-Baptiste Favory, on French label ACEL; a recording featuring composers Andrew Raffo Dewar, Monroe Golden, Holland Hopson, Mark Lackey, Kyle McGucken, and Brian C. Moon, of the BAMA Composers Collective; and a 2nd Miolina-produced album of works by Lynn Bechtold, Eve Beglarian, Dan Cooper, Max Lifchitz, and Aleksandra Vrebalov.
In June 2017, they were chosen to join New Music USA's Impact Cohort. Support through New Music USA's NYC New Music Impact Fund is made possible with funding from The Scherman Foundation's Katherine S. and Axel G. Rosin Fund. They are also recipients of 2019 grants from the Adami Foundation and the American-Scandinavian Foundation; a 2018 grant from the Queens Council on the Arts; a 2017 Japan Foundation NY grant; 2016 and 2014 grants from New York Women Composers; and a 2015 grant from the Lower Manhattan Cultural Council. In 2017 and 2019, they were chosen for artist residencies at Avaloch Farm Music Institute.
Miolina specializes in violin duo music that employs the natural beauty and sound of the instruments, with or without electronics and video. They enjoy collaborating on new compositions with composers, as well as discovering hidden gems of the past. Some of their recent performance collaborators include artist/multi-instrumentalist Ken Butler; cellists Jennifer DeVore and Craig Hultgren; percussionists Ian Ding and Eric Millstein; pianist Laura Ahumada; soprano Sharon Harms; violinists Mari Kimura, Masha Lankovsky, Machiko Ozawa; and noise vocalist Akio Mokuno.
Miolina is a 501(c)3 non-profit. Their self-titled debut album was released on Composers Concordance Records, distributed by Naxos, in 2018. Available on iTunes and at Amazon.